Bugs

I have a narrated text element that is hidden and set to play narrated audio and word highlighting only if element is visible.  I have an animated graphic button that on Tap will show the text element.  
Problem
: The hidden element audio plays on page load before the button is clicked and the word highlighting doesn't work when the button is clicked to show the text element. 
To reproduce:
Create a button and set to OnTap show the hidden text  element.
Assign to Text element: Make Element hidden at runtime, add narration audio, word highlighting to yes, set timing and set to play narration on page load IF element is visible. In Interact mode the audio will play before the hidden element is visible.
and Text highlighting does not work. See screenshots below if that helps.
Thanks for any suggestions on a workaround.
Text Element Properties: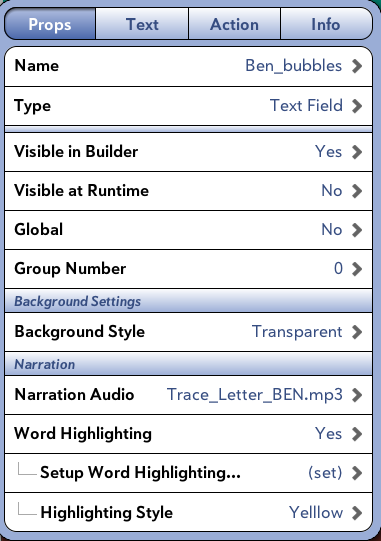 Text Element Action Set (Behavior is set to On Page Load)