Bugs

Hi
I am checking my app in the new player... but I found some bugs: the player screen went black for a couple of times, and warning messages appeared saying "books element not found", "register element not found".. etc.
I got also some timeout problems when uploading the app; and then downloading it to the player gave me the error "page 2 was not possible to unzip with zipper since file could not be found.."
Besides, I have an 8 frames animation (made of png files) that runs very slowly on the player, though it works fine on the Builder InteractMode of my laptop... I wanted to know if future player updates will set this also for the apps that will have been already published...
Finally I miss a feature that had been released on version 3.2 and then removed in version 3.3 (don't know why, since I think it was an improvement): if you had a png object with transparent areas; you could select the objects underneath if you tapped on the empty (transparent) zones of the object above. If you tapped on the "filled" zone instead, you selected that object. I found it really useful when you had; e.g; frames showing rasterized text imported as a png; next to an illustration: even if the text-object frame covered partially the illustration, you could still select the illustration if you tapped in an empty zone of the object frame above.
I send you an image to illustrate this: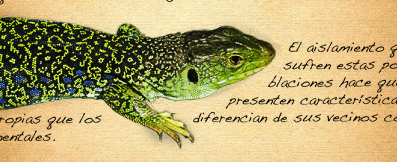 The text of the image is a single png image with an empty area left on purpouse to fit the illustration on it.
The lizard is another png object, put underneath the text. On version 3.2 it was possible to tap the image through the empty area of the text image. On version 3.3 it was not possible anymore. For me this was a critical feature, since most of the illustration on my book are put in this way, and they should be "tapable"
Thanks
Pablo